THE FAMOUS FIVE
Five On A Treasure Island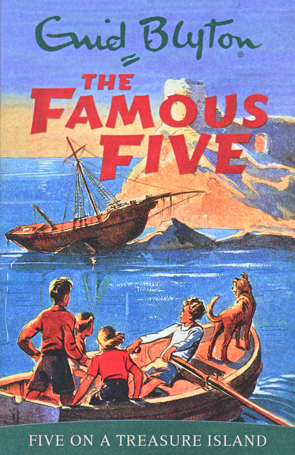 Julian, Dick and Jane visit their cousin, Georgina for the first time while their parents holiday in Scotland. Georgina is a "tomboy" who insists on being called George. She has a dog, Timothy, whom she hides from her parents because she is not allowed to keep him. George tells the other children that Kirrin Island, situated in the bay with its own castle, belongs to her family and her mother says it can be hers. They explore the island together and find a map with clues to a treasure when an old shipwreck is washed ashore. The children set about finding the treasure in the hope of turning around the fortunes of George's family, but they must do it before a mysterious collector buys the island and seizes the treasure for himself.
Main Characters

George
George is described as a tomboy. Her given name is 'Georgina' but she will not answer to this name. She is hot-headed and would prefer to be a boy. Initially, she is not keen on her cousins, whom she has never met, coming to stay with her.

Timmy
Timmy is George's dog. She hides him with a local fisherboy, Alf, because her parents do not want her to own the dog. Much of George's character can be gleaned from her relationship with Timmy and how others react to the dog.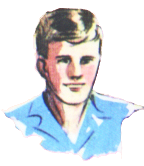 Julian
Julian is the oldest of the children at 12 years in this first book. He is confident and is sometimes described as wise, however he can also act violently with a self-righteous streak when in conflict with others

Dick
Dick is the second oldest of the Kirrin children. His character is less developed, since he often is overshadowed by George or Julian, but he has moments in the story when he is given the chance to act heroically.

Anne
Anne is the youngest of the children and sometimes lets out secrets without thinking.
Uncle Quentin
Quentin, George's father, is a scientist working on secret experiments in the house. He does not like to be disturbed by the children and can sometimes be ill-tempered.
Aunt Fanny
Fanny has no major influence on the plot. She is Quentin's wife and George's mother, and she cooks.